14 dead, 24 injured in Ukrainian strike on civilian hospital – Russian MOD
The attack by Kiev's forces on a medical facility in the Lugansk People's Republic was "deliberate," Moscow claims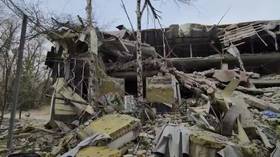 At least 14 people have been killed and 24 injured after Ukrainian missiles struck a hospital in the city of Novoaydar in the early hours of Saturday, the Russian Defense Ministry said in a statement.
The medical facility in the city, which is located dozens of kilometers away from the frontlines in the central part of the Lugansk People's Republic, treated both local residents and soldiers, the ministry noted. It added that both patients and medical personnel were among the victims.
"A deliberate missile strike on a known civilian healthcare facility is an absolutely grave war crime of the Kiev regime," the MOD stated in a Telegram post, vowing to bring all those involved in planning and executing the attack to justice.
According to the statement, a US-made HIMARS multiple rocket launcher was used in the strike. Following the attack, Moscow's first deputy permanent representative to the UN, Dmitry Polyansky, accused Washington of being directly involved in the incident.
Polyansky called the strike "yet another heinous crime," highlighting that 14 civilians were killed in the hospital with missiles provided by the US. He also pointed out that Washington provided the Ukrainian military with intelligence data. "This makes the US directly complicit," he said, adding that "the US taxpayers should know how their money is spent."
Moscow has repeatedly accused Ukrainian forces of targeting civilian infrastructure, including with weapons supplied by the West. In early January, six people were killed and 37 injured in a strike on the city of Vasilyevka in Russia's Zaporozhye Region. Prior to that, a hospital was destroyed in the city of Tokmak in the same region. In both cases, US-made HIMARS systems were used, the local authorities said at the time.
You can share this story on social media: