Civilians killed in Ukrainian HIMARS missile attack – officials
Six people lost their lives when Kiev's troops shelled the city of Vasilyevka, local authorities have said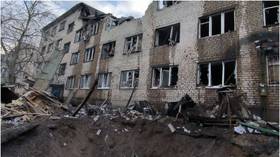 Ukrainian troops have shelled a residential area in the city of Vasilyevka in Russia's newly incorporated Zaporozhye Region, killing six people and injuring 37, the acting governor, Yevgeny Balitsky, said on Wednesday. He added that three first responders were among the wounded, one of whom is in critical condition.
"The situation in Vasilyevka is tense. The shelling does not stop. All emergency services are working to help people," Balitsky wrote on his Telegram channel. He also shared photos of destroyed buildings and damaged vehicles on the city's streets.
Vladimir Rogov, a senior regional official, said that Ukrainian forces had hit an apartment block near a building that houses the city's military administration. He explained that locals were lining up outside the building to receive documents for their cars when the strike hit.
Rogov claimed on Telegram that Kiev had used a US-supplied M142 HIMARS multiple rocket launcher to carry out the attack.
Natalya Romanichenko, the mayor of Vasilyevka, a city of roughly 13,000 people, urged residents to stay off the streets and seek shelter.
The latest news comes after local authorities reported that the Ukrainian Armed Forces destroyed a hospital in the city of Tokmak on Tuesday. Moscow has repeatedly accused Ukraine of using HIMARS and other Western-made weapons to target civilians.
The Zaporozhye Region, together with three other former Ukrainian territories, became part of Russia after holding a referendum on the matter in September.
You can share this story on social media: