Ukraine kills and injures Donbass civilians – officials
Attacks on residential areas were ramped up amid New Year's celebrations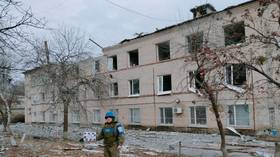 The city of Donetsk, as well as other locations across the Donetsk (DPR) and Lugansk (LPR) People's Republics, came under heavy artillery and rocket attacks by Kiev's forces overnight, according to the local authorities. Officials claim the shelling primarily targeted residential areas and continued into the day, with the Ukrainian military using 155mm NATO-caliber artillery and Western-supplied multiple rocket launchers.
Three people, including a three-month-old boy, were injured as a result of shelling in Donetsk's central district, the city's mayor, Aleksey Kulemzin, reported on Sunday.
More than 15 civilians were injured in the attacks on the town of Makeevka, a satellite of Donetsk located immediately to northeast of the city. The town has been repeatedly targeted with various weaponry over the past 24-hour period, according to the local authorities.
At least six civilians were killed in the Ukrainian attack on a hospital, located in the town of Pervomaysk in the LPR. The deputy head physician of the hospital, Tatyana Kovalyeva, told RIA Novosti that the facility was targeted with rocket salvos three times, with intervals of around 30 minutes, in an apparent 'double-tap' effort to strike the hospital and then the first responders.
"At least six people have been killed, and the figure may grow as we're still searching through debris," Kovalyeva stated.
Cities in Donbass have been repeatedly subjected to heavy artillery and rocket attacks by Kiev amid the conflict between Russia and Ukraine, with more than 1,000 civilians perishing last year in the DPR alone.
Both sides have been active during the New Year's celebrations. Kiev's troops have shelled settlements across Donbass, and the Russian military launched a new large-scale missile barrage across Ukraine.
The Russian Defense Ministry said on Sunday it had targeted drone manufacturing facilities and stockpiles during the latest salvo, disrupting Kiev's plans to carry out "terrorist attacks" against Russia.
You can share this story on social media: