Ukrainian drone depots destroyed – Moscow
Missiles struck facilities involved in the production of UAVs, the Russian Defense Ministry said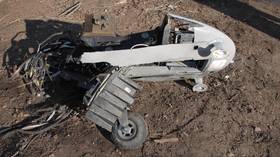 A missile barrage has targeted Ukraine's ability to launch drones at Russian territory, Moscow's Defense Ministry said on Sunday.
The strikes destroyed Ukrainian production facilities involved in manufacturing UAVs used by Kiev to carry out "terrorist attacks" against Russia, according to the ministry.
The Russian attack also targeted locations where action-ready drones were parked, and their launch sites, the statement added.
"The goal of the strike was achieved, Kiev's plans to carry out terrorist attacks against Russia in the near future have been thwarted," the ministry said.
The chief of Ukraine's armed forces Valery Zaluzhny said on Telegram that 20 missiles had been fired at the country on Saturday from Russia's long-range bombers and ground-based systems. He claimed that 12 of those missiles had been shot down by Ukrainian air defenses.
Kiev mayor Vitaly Klitschko said one person was killed and 20 others wounded in the strikes. Several people were also injured in the cities of Nikolaev and Khmelnitsky, according to local authorities.
On December 5, Ukraine attempted to hit bases hosting Moscow's long-range bombers in the Saratov and Ryazan regions, deep inside Russian territory. According to the Defense Ministry, the modified "Soviet-made" jet drones used in the attacks on the Engels and Dyagilevo bases were destroyed by air defenses, but their debris ended up killing three service personnel and "slightly" damaging two aircraft.
A similar strike against the Engels airfield was again attempted by Kiev on December 23. The UAV was also shot down, but three servicemen suffered fatal wounds from the debris. According to Russian officials, no damage was caused to aircraft on the ground.
Throughout the conflict, Ukraine has also employed smaller drones to target Russia's border regions and Crimea on numerous occasions.
You can share this story on social media: