Trump 'not far away from truth' on Ukraine – Kremlin
Former president is correct that the current US leader could swiftly settle the Moscow-Kiev conflict, Dmitry Peskov remarked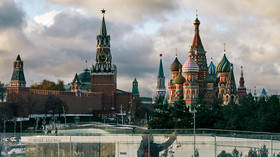 Former US President Donald Trump has basically nailed it by suggesting that the White House could put an end to the Ukraine conflict, Kremlin Press Secretary Dmitry Peskov said on Friday.
Hours earlier, Trump had claimed on his social media platform Truth Social that if he "were president, the Russia/Ukraine war would never have happened." Even if it did and he were still US President, Trump "would be able to negotiate an end to this horrible and rapidly escalating war within 24 hours," he argued.
Commenting on this remark at a media briefing, Peskov stated that Trump is "theoretically… not far away from the truth."
"Indeed, should the US President wish to put an end to this conflict, he could do it very quickly, using the opportunity to simply give instructions to the Kiev regime," the Kremlin spokesman said.
Such a result is impossible to achieve "overnight or in a couple of days, but in many respects the key to the Kiev regime resides in Washington's hands," he stressed.
However, Peskov continued, US President Joe Biden seems reluctant to embrace such a policy, opting instead for "pumping Ukraine with weapons even further."
Earlier this week, the White House announced the decision to deliver 31 M1 Abrams tanks to Ukraine.
Russia has repeatedly stated that it is open to talks with Ukraine, but only if Ukraine "recognizes the reality on the ground," including the new status of the regions of Donetsk, Lugansk, Kherson, and Zaporozhye as parts of Russia.
Last week, Russian Foreign Minister Sergey Lavrov said that while Moscow is "ready to respond to all serious proposals" regarding how to overcome the Ukraine crisis, it is "the West which decides for Ukraine" and it doesn't give Kiev a chance to make any decisions on its own.
You can share this story on social media: