Trump reacts to Ukraine tank plans
The former US president has issued a plea to "get this crazy war ended"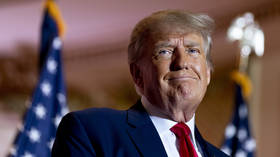 Washington's decision to send M1 Abrams main battle tanks to Ukraine could bring the world closer to a nuclear conflict, former US President Donald Trump has warned.
"FIRST COME THE TANKS, THEN COME THE NUKES. Get this crazy war ended, NOW. So easy to do," Trump wrote on his social media platform Truth Social on Thursday. The 45th president has argued in the past that the conflict between Russia and Ukraine would not have happened had he still been in office.
Republican Congressman Troy Nehls suggested in a Fox News interview on Thursday that President Joe Biden should call Trump and that Trump could later call Russian President Vladimir Putin. "We must stop this war, and Donald Trump can do it," Nehls said.
The Abrams tank "requires an enormous amount of logistical support," Nehls explained, adding that, instead of additional military aid to Kiev, the US should focus on other crises in the world and on issues at home. "We're depleting our munitions. It's going to take years for the industry to catch up."
Biden announced plans to deliver 31 tanks to Ukraine on Wednesday. Britain, meanwhile, promised to provide Ukraine with 14 Challenger 2 tanks. Germany has agreed to send 14 Leopard 2A6 tanks and allowed Poland and other European countries to hand over their own Leopards to Ukraine.
Moscow has maintained that the flow of foreign weapons will not change the course of the conflict and will only lead to more deaths. Kremlin spokesman Dmitry Peskov warned this month that any Western-supplied tanks "will burn" on the battlefield.
Russia's deputy envoy to the Organization for Security and Co-operation in Europe (OSCE), Maksim Buyakevich, stated on Thursday that by deciding to deliver the heavy armor to Ukraine, the US and other NATO members were "deliberately escalating the military standoff" with Moscow.
"This is a straight path into a full-blown conflict in Europe," Buyakevich concluded.
You can share this story on social media: