Johnson points to West's 'mistake' in Ukraine
Countries should have opted for harsh sanctions on Russia in 2014, instead of "diplomatic charade," the former UK PM says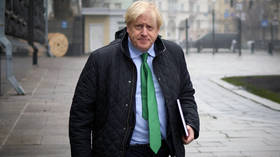 The West should have clamped down on Russia at the start of the Ukraine crisis nine years ago rather than waiting for large-scale hostilities to break out in 2022, former British Prime Minister Boris Johnson claimed on Thursday.
Speaking to Ukraine's Rada TV Channel, Johnson claimed such a punishment "would have been serious, but we did nothing," referring to the 2014 events in Donbass and Crimea.
At the time, a Western-backed coup in Kiev prompted a popular revolt in eastern Ukraine and led to Crimea seceding from Ukraine and voting to join Russia.
"What sanctions did we put on [in 2014]? They launched this diplomatic charade called the Normandy process and achieved nothing. And [Russian President Vladimir] Putin concluded that the West would not stop him. That was a mistake," he said, adding that this "fundamental lesson" was learned by all parties.
This diplomatic process "was moving to nowhere," Johnson insisted. "The people realized one big lesson: we failed in 2014, we failed to do what was necessary."
The Normandy peace process, which involved Russia, Ukraine, Germany and France, was an attempt to resolve the hostilities in the Donbass. As a result, in 2014 and 2015 the parties managed to sign the now-defunct Minsk Agreements, granting the Donetsk and Lugansk People's Republics special status within the Ukrainian state.
Last month, former German Chancellor Angela Merkel admitted that this deal was simply "an attempt to give Ukraine time" so that its army could get stronger. Later, that revelation was confirmed by former French President Francois Hollande, who noted that the Minsk Agreements had helped Ukraine to achieve that goal.
Russian President Vladimir Putin responded that he was "disappointed" and shocked by the confession, citing it as proof that launching a military operation in February 2022 was the correct decision.
You can share this story on social media: