Türkiye outlines 'complications' in potential Ukraine-Russia talks
Moscow and Kiev now have even more issues to resolve, Foreign Minister Mevlut Cavusoglu has said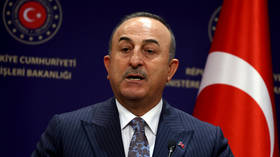 The diplomatic process to settle the Ukraine conflict has become more complicated despite Moscow and Kiev having initially made headway, Türkiye's Foreign Minister Mevlut Cavusoglu said on Thursday.
Speaking during his visit to Washington, DC, where he met with US Secretary of State Antony Blinken, Cavusoglu stated that while Ankara had been doing its best to put an end to hostilities, "it is not entirely in our hands to stop the war."
The minister noted that, though Russia and Ukraine had covered "quite a distance in the beginning, and the parties came closer to at least a ceasefire," later the situation "had evolved, unfortunately."
Cavusoglu stated that the conditions of the Ukraine conflict "have changed." "It has become more complex and has different dimensions. Unfortunately, many more different areas to negotiate have emerged," he added.
The diplomat reiterated that Ankara continues its mediation efforts as part of the UN- and Türkiye-brokered grain deal, which aims to unlock agricultural exports via the Black Sea from Russia and Ukraine. He added that the same applies to prisoner swaps between Moscow and Kiev, as well as mitigating risks at the nuclear power plant in Russia's Zaporozhye Region.
The US and Russia are also maintaining contacts in order to avoid the use of nuclear weapons, Cavusoglu noted. This was an apparent reference to talks between the head of the Russian Foreign Intelligence Service (SVR), Sergey Naryshkin and CIA Director William Burns, which took place in Ankara in mid-November and revolved around issues of nuclear security.
Türkiye has consistently tried to act as a mediator between Moscow and Kiev to settle the stand-off diplomatically. In March, the nation hosted talks between the two. While Moscow had initially voiced optimism about the peace process, the Ukrainian government quickly backtracked on all the promises it had made in Istanbul, with the sudden change of mood occurring shortly after then-UK prime minister Boris Johnson visited Kiev.
Since then, Ukrainian President Vladimir Zelensky signed a decree officially rejecting peace talks with his Russian counterpart Vladimir Putin. Later, he floated a ten-point "peace formula," which requires Russia to withdraw all its troops from the territory Kiev claims as its own. Moscow has rejected Zelensky's proposal, saying that it refuses to take reality into account and illustrates Kiev's unwillingness to find a solution to the crisis.
Moscow has repeatedly said that it is open to talks with Kiev but only if Ukraine "recognizes the reality on the ground," including the new status of the regions of Donetsk, Lugansk, Kherson, and Zaporozhye as parts of Russia.
You can share this story on social media: