Major wave of airstrikes reported in Ukraine
Air-raid warnings have been activated all over the country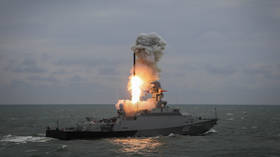 Ukraine was subjected to a huge wave of Russian airstrikes on Thursday morning, with explosions at energy facilities reported from various parts of the country, including the capital, Kiev.
"A blast in Kiev. Stay in shelters," Mayor Vitaly Klitschko wrote on Telegram.
Videos on social media have shown thick black smoke rising from an undisclosed location in the city. The Kiev metro has reportedly ceased its operations during the airstrikes.
Ukrainian Railways have announced that some trains will be delayed as news of the airstrikes started coming in.
Reports of explosions also came from the Black Sea port of Odessa, where at least two electrical substations were said to have been hit. According to social media accounts, there've been power shortages and issues with internet access in the city.
Blasts were also reported from Dnepr, Vinnitsa, Krivoy Rog, Nikolaev and from some other locations.
Ukrainian officials said that air defenses had been activated in Kiev, Vinnitsa and Zhytomir Regions.
Earlier, Anton Gerashchenko, an adviser to Ukraine's interior minister, said that Russian missiles were incoming from the direction of the Caspian Sea.
Moscow has stepped up pressure on Ukraine since October last year, when it accused Kiev of using "terrorist tactics" and of targeting Russian infrastructure, including the strategic Crimean Bridge. Since then, a number of large-scale missile strikes have been carried out against Ukrainian military installations and energy facilities, leading to rolling blackouts across the country.
You can share this story on social media: