Russia blames Ukraine for deadly Dnepr missile blast
The tragedy would never have happened if Ukraine had not illegally stationed air defenses in a residential area, Moscow's UN envoy said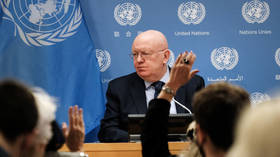 Ukraine's violation of international humanitarian was the ultimate cause of the deadly missile explosion in its southeastern city of Dnepr, Russia's permanent representative to the United Nations, Vassily Nebenzia, said on Tuesday.
Speaking at a UN Security Council briefing on human rights in Ukraine, Nebenzia referred to the missile that struck a residential building last week, claiming the lives of at least 45 people and injuring another 79. According to the diplomat, the West chose not to speak "about the real background of those events, which had been provided… by Ukrainian officials."
Nebenzia explained that "a Russian missile that targeted an energy infrastructural facility was downed by Ukrainian air defenses." Since this air-defense system "was positioned in a residential quarter contrary to the norms of international humanitarian law... the missile fell onto a residential building," he added.
Had the Ukrainian authorities complied with international law, "this tragedy would have never happened," Nebenzia insisted. Moreover, Russia would have no need to target Ukrainian infrastructure if Kiev "had demonstrated readiness to negotiate on realistic terms that would have [addressed] the causes why the special military operation had been started," the diplomat noted.
The Russian envoy went on to rebuke Western countries for not saying "a word of condemnation of almost unstopping airstrikes by the Ukrainian Armed Forces" on the Donbass city of Donetsk, which have also claimed numerous lives.
"In this case, however, the Kiev regime deliberately targets residential quarters where there are no military facilities," Nebenzia stated.
On January 14, Russia conducted a missile strike "on the military command and control system of Ukraine and associated energy facilities," according to the Defense Ministry. On the same day, a missile hit a residential block in Dnepr.
Following the incident, Aleksey Arestovich, a former adviser to Ukrainian President Vladimir Zelensky, said the projectile had fallen on the building after it was downed by Ukrainian air defenses. This sparked an outrage from many Ukrainian officials, which prompted Arestovich to tender his resignation. The former aide also apologized for his remarks, describing them as "a serious mistake."
Moscow ramped up its strikes against Kiev's infrastructure in early October, citing repeated Ukrainian sabotage on Russian soil, including the deadly bombing of the strategic Crimean Bridge.
"The Russian Armed Forces don't target residential buildings or social infrastructure facilities. The attacks are only aimed at military targets," Kremlin spokesman Dmitry Peskov told journalists.
You can share this story on social media: