Major Ukrainian offensive thwarted – official
A 'preemptive' Russian attack forced Ukrainian forces to call off a planned offensive in Zaporozhye Region, a local official says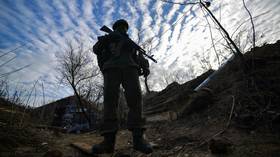 The Russian military has forced Ukraine to call off a planned offensive in Zaporozhye Region, senior local official Vladimir Rogov has said.
Kiev had been preparing a major operation in the direction of Melitopol and Berdyansk and "promoted the operation several times to a Western audience," Rogov told Komsomolskaya Pravda Radio on Wednesday.
The Russian forces "launched a preemptive attack... and not only thwarted those plans, but gained and seized the strategic advantage and took the initiative into their own hands," he claimed.
In a separate comment to RIA Novosti news agency, the official said that, in order to defend its positions in Zaporozhye, Kiev now has to redeploy troops from other parts of the front, including from Donbass, where heavy fighting is currently underway for control of the strategic town of Artyomovsk/Bakhmut.
The Russian military has been making localized advances in Zaporozhye Region over the past week, approaching the towns of Orekhov and Gulaypole. Orekhov is located some 60km northeast of the city of Zaporozhye, which is a major industrial center, sitting on the Dnieper River.
The authorities in Zaporozhye Region have been warning about a Ukrainian plan to launch an offensive in the area since autumn. They said the strike by Kiev's troops could target Melitopol, Berdyansk and Energodar, home to Europe's largest nuclear power plant, with the aim of reaching the Sea of Azov and severing Russian supply lines.
Zaporozhye Region was incorporated into the Russian state in early October together with Kherson Region and the People's Republics of Donetsk and Lugansk following referendums, in which the populations of those areas overwhelmingly supported joining Russia.
It is estimated that Russia currently controls around 70% of the Zaporozhye Region, with Ukraine holding the regional capital Zaporozhye, which had a population of around 1 million before the conflict.
You can share this story on social media: