Kremlin comments on direct contact with Zelensky
Vladimir Putin hasn't spoken to the Ukrainian president in years, a spokesman confirmed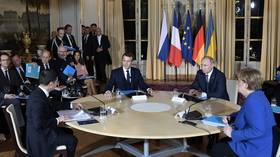 Russian President Vladimir Putin has not spoken to his Ukrainian counterpart for a number of years, his spokesman has confirmed.
Dmitry Peskov was asked about contact between the two leaders by RIA Novosti during a press conference. The news agency referred to the Russian president's public itinerary, which suggests he last met Zelensky in person during "Normandy format" talks mediated by France and Germany in 2019. The following year, they spoke by phone twice, in February and June.
Russian Foreign Minister Sergey Lavrov had previously revealed that Moscow and Kiev were on the verge of signing a truce during the early stages of the conflict on terms suggested by the Ukrainian side. However, the process was stopped by Kiev's Western sponsors, who want to prolong the conflict to harm Russia, he said.
Since Zelensky's government is not in control of its own foreign policy, it makes no sense talking with him, Lavrov suggested. And, in any case, talks with Russia are currently banned under Ukrainian law, he added.
The Russian diplomat was referring to an order of the Ukrainian national security council prohibiting any negotiations with Moscow so long as Putin remains in power. Zelensky signed it into law in October.
Ukraine agreed to a 2014-2015 peace roadmap as a ploy to rebuild its army, according to its former president Pyotr Poroshenko and the leaders of Germany and France at that time, Angela Merkel and Francois Hollande.
The same approach was apparently used for the peace negotiations last year, which were partially mediated by Türkiye. Kirill Budanov, the head of Ukrainian military intelligence, confirmed last week that he had used an asset in Ukraine's team of negotiators to stall the process and win time for a military regrouping.
You can share this story on social media: