Kiev asked Minsk to sign non-aggression pact – Lukashenko
Despite offering a deal, Ukraine is training militants that pose a threat to its neighbor, the Belarusian president added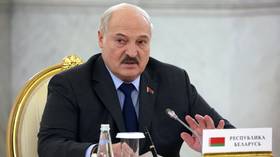 Belarusian President Alexander Lukashenko has claimed Ukraine proposed a "non-aggression pact" with his country, but continues to train militants who pose a national security threat.
"I don't know why the Ukrainians are doing this. On the one hand, they ask us not to fight with Ukraine under any circumstances, and that our troops don't move in there. They suggest signing a non-aggression pact. And on the other hand they are preparing this 'explosive mixture' and are arming these [militants]," Lukashenko said during a government meeting on Tuesday.
The president said the West has not abandoned its "plans" for Belarus, and that Ukraine, along with neighboring states Poland and Lithuania, continue to train militants and extremists that pose a threat to national security.
He insisted that Belarus will never allow a repeat of the protests that swept the country in 2020, and will act "harshly" in order to make sure the nation survives and doesn't turn into a warzone like Ukraine.
Lukashenko said Poland and Lithuania have gone "completely crazy" and that Belarus has no choice but to respond appropriately.
"We are forced to react harshly," he said, adding that Belarus "has enough issues" on its borders, both in the air and on the ground, and the last thing it needs is turmoil within the country.
"Let them not be offended, they were warned," the president said, addressing "not the internal opposition, but the extremists" that choose to "crawl out from under the baseboard" and stir up trouble.
On Monday, the State Border Committee of Belarus said "a group of armed formations" made up of 23,500 troops from European Union states and Ukraine were concentrated near the country's border. It claimed 17,500 of them were from Ukraine, and 3,700 from Poland.
The committee also alleged that neighboring countries were constructing an "iron curtain" along the frontier, consisting of stationary engineering structures, barriers and even minefields.
Kiev has insisted that it does not have any aggressive plans against Belarus, but that it is "prepared for any scenario," and warned Minsk against making any hostile plans of its own.
You can share this story on social media: