Russia's closest ally announces joint military drills
All of Belarus' air bases will be used during the exercise, its defense ministry has said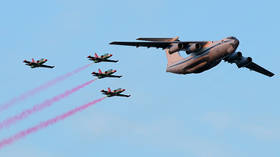 The Belarusian Defense Ministry has announced that joint training exercises with Russia will take place over several weeks following the two nations' establishment of a new military force. The drills will begin on January 16 and continue until February, the ministry said on Sunday.
The exercise will feature tactical aviation units drawn from both nations that form part of the new Belarus-based joint military force. All of the country's air bases will be involved in the drills, according to the ministry. Russian warplanes have already arrived in Belarus, according to the Defense Ministry's statement.
Moscow and Minsk announced the creation of a joint regional military force in October, with the move touted as a response to the growing presence of NATO forces near Belarusian borders. The host nation has contributed some 70,000 military personnel to the mission, while Russia has reportedly deployed 9,000 of its own troops, as well as some of its most advanced weapons systems.
The new force will "cool down hotheads in the West," Aleksandr Volfovich, the secretary of the Belarusian national security council, told the media last week. He added that an increasing number of military drills and reconnaissance flights conducted by NATO members had indicated that their policy was "far from being peace-loving" and required counteraction.
Senior officials in Belarus have accused the US-led military bloc of compromising its national security by increasing military deployments in Eastern Europe. Defense Minister Viktor Khrenin said the US alone had some 35,000 troops in the region, including 22,000 in Poland and the Baltic states. He claimed that those forces could be used to attack his nation.
Russia and Belarus have long been allies and their militaries are closely integrated, operating a joint air-defense system. Minsk allowed Moscow to use its territory during the special operation against their mutual neighbor Ukraine, but declined to provide troops.
You can share this story on social media: