Ukraine storing weapons at nuclear plants – Russia
Kiev is using the facilities as cover for stockpiles of Western-made munitions, Moscow's foreign intelligence chief says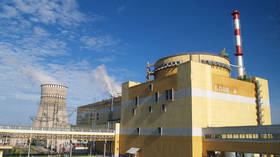 Ukrainian forces are storing Western-supplied missiles and artillery shells in nuclear power plants, Russian Foreign Intelligence Service Director Sergey Naryshkin said on Monday. He claimed that Kiev has been using the plants as cover for ammunition stockpiles.
"There is credible information that Ukrainian troops are stockpiling the Western-supplied weapons and ammunition on the territory of nuclear power plants," Naryshkin said, according to a statement on the intelligence service's website. He added that the armaments include rockets for US-made HIMARS launchers and missiles used by foreign air defense systems, as well as "large-caliber artillery shells."
According to Naryshkin, several cars loaded with "lethal cargo" were delivered by rail to the Rovno Nuclear Power Plant in western Ukraine during the last week of December alone. "They rely on the calculation that the Russian Armed Forces would not strike nuclear power plants because they realize the danger of a nuclear disaster," the intelligence chief said.
And if another Ukrainian anti-air missile 'veers off course', causing large-scale detonation of the stockpiles and the destruction of the nuclear power plant, the tragedy could always be blamed on Moscow.
Both sides have raised concerns over the safety of power plants since the conflict between Russia and Ukraine broke out in late February. The International Atomic Energy Agency (IAEA) deployed a monitoring mission to the Rovno plant last week and promised to station experts in other facilities in Ukraine.
Russia has accused Ukrainian forces of shelling the Zaporozhye Nuclear Power Plant, which is Europe's largest. It is located in the eponymous region which, along with three other former Ukrainian territories, joined Russia following referendums in September.
Kiev denied targeting the facility and claimed that Russia was using the plant as a base and cover for its soldiers. Russian officials said that heavy weapons have never been deployed to the site, and that a select number of armed security personnel were maintaining the safety of the plant, as it is located near the frontline.
You can share this story on social media: