UN nuclear watchdog reveals plans for Ukraine mission
IAEA's experts will be present at all nuclear facilities in the country, the body's chief Rafael Grossi says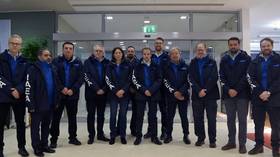 The International Atomic Energy Agency (IAEA) is expanding its presence in Ukraine, with its experts to be deployed at all of the country's nuclear power stations, the UN nuclear watchdog's chief Rafael Grossi has announced.
The IAEA is sending more personnel to Ukraine "to help prevent a nuclear accident during the ongoing conflict" between Moscow and Kiev, Grossi wrote on Twitter on Monday.
The official, who is currently on a visit to Ukraine, said he was proud to lead the mission that would see the watchdog "deploying in all of the country's NPPs (nuclear power plants) to provide assistance in nuclear safety and security."
At the request of Kiev authorities, two-member teams will be stationed at the Rovno and Khmelnitsky nuclear power plants as well as at the Chernobyl site, where the world's worst nuclear disaster occurred in 1986, the IAEA said last week.
Grossi is expected to personally launch the missions in Rovno and Chernobyl, while also holding talks with top Ukrainian officials in Kiev as part of his visit, it added.
The IAEA already has experts present at the Zaporozhye nuclear power plant in the region of the same name, which became a part of the Russian state in autumn, together with Kherson Region and the People's Republics of Donetsk and Lugansk.
The watchdog's team arrived at Europe's largest nuclear power plant in September amid Moscow's claims that Ukraine had been risking a nuclear disaster by its continuous shelling of the facility. Kiev has denied those accusations, claiming that the Russians had turned the station into a military base and had fired at it themselves in order to pin the blame on the Ukrainian forces.
The IAEA didn't find heavy Russian military hardware on site and confirmed damage to the Zaporozhye NPP, but has been reluctant to name the side responsible for the attacks that are still happening frequently.
In November, Russia's Foreign Ministry spokesperson Maria Zakharova urged the IAEA to start acting like an "authoritative and independent international body" and to "clearly and unambiguously" identify the culprits of the shelling. She also blamed the West for giving Ukraine a "blank check" to continue with its "reckless" attacks on the nuclear plant.
Grossi, who has been in talks with Russia and Ukraine on establishing a safe zone around the complex, said last week that discussions were "making progress, albeit not as fast as they should."
The IAEA chief insists that the withdrawal of Russian troops from the site is key to establishing the security zone, but Zakharova said in early December that "there can be no talk about this" as Zaporozhye Region is now Russian territory.
The head of Russia's Chief of the General Staff, Valery Gerasimov, last month accused Kiev of "nuclear terrorism" for having targeted the plant, saying that the facility is only safe due to the presence of Russian troops there.
You can share this story on social media: