Ex-Russian space chief assigns blame for deadly strike
Western intelligence may have been involved in the assassination attempt, Dmitry Rogozin has suggested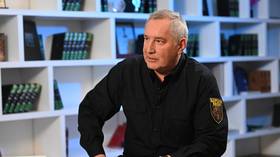 The shelling that almost cost former Russian space chief Dmitry Rogozin his life was the work of Ukrainian intelligence services, possibly assisted by some Western nations, he has claimed in an interview.
The former top official said that he knows the exact artillery crew responsible for the December 21 attack, according to an interview published by RIA Novosti on Monday. He added that he considers it a matter of personal honor to hunt them down on behalf of two associates, who were killed in the incident.
Rogozin, who now commands a volunteer fighting force called "Tsar's Wolves," said he used his contacts in the Russian space agency Roscosmos, which he used to lead, to identify the perpetrators.
"I asked for an exact map, an image made that night by one of our spacecraft. I believe we have identified the exact weapon that made the shots, which was placed in the optimal position," he said.
"I hope to find and destroy [the crew] after I return," he stated. "It's a matter of honor for us, because I lost two of my fighters."
Rogozin and his associates came under shelling at a hotel in the city of Donetsk with what he described as a precision strike by Kiev's troops. He believes it was a targeted "terrorist attack" by "Ukrainian agents, and not only Ukrainian." It was possible "that Western special services helped," he explained.
He said a total of seven shells landed at the location, with one hitting the floor at his feet, but luckily for him failing to detonate. Rogozin was injured in the neck by a piece of shrapnel, but survived and is now recovering after a surgery. He said he intends to return to Donbass by the end of January.
The incident happened on Rogozin's birthday, but in the interview he insisted it was an "ordinary day" for him. He had spent it at a shooting range where volunteer snipers from his force were training and had just gone out from his hotel room to meet fellow fighters at the hotel restaurant, when the artillery strike happened, he said.
He has stated previously that he believed the location of his group must have been leaked to the Ukrainian side.
You can share this story on social media: