Ex-Zelensky aide casts doubt on Ukraine's military fortunes
There is no guarantee that Kiev will be able to defeat Moscow's forces, Aleksey Arestovich has said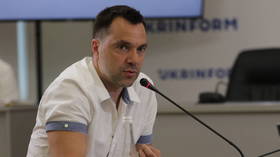 Ukraine has squandered the opportunity to prevail in the conflict with Russia, Aleksey Arestovich, a former adviser to President Vladimir Zelensky, said on Friday.
Speaking in an interview with political analyst Yuri Romanenko, Arestovich said that "if everyone thinks that we are guaranteed to win the war, it seems very unlikely."
"What do you think, the assessment of Polish President Andrzej Duda… that there is basically no certainty whether Ukraine will survive… Did he say that for no special reason, or did he say that based on some kind of information?" Arestovich asked.
Duda said several days ago that a "decisive moment" in the conflict could come in a few weeks or months. "And this moment is the answer to the question, if Ukraine will survive or not," he explained, highlighting the need to support Kiev with Western-made weapons.
Arestovich also warned that Ukraine should not consider itself invincible. "We are invincible only until we are at each other's throat. When this happens, we are pretty much vincible, in a short time and unexpectedly for ourselves."
The former official stated that Ukraine had "missed not only a military opportunity, we lost time, and the Russians began mobilization, restored the front [line] situation, and even created superiority in some places." He added that "not only did the West not give [Ukraine] weapons, we missed a public chance, in terms of domestic and state [policies]."
On Tuesday, Arestovich resigned from his post after stating that the Russian missile that fell on a residential block and killed dozens in the southeastern city of Dnepr was shot down by Ukrainian air defenses. Later, the former aide apologized for his remarks, describing them as "a serious mistake."
On the day of the tragedy, Russia conducted a missile strike "on the military command and control system of Ukraine and associated energy facilities," according to the Russian Defense Ministry. Commenting on the Dnepr incident, Kremlin Press Secretary Dmitry Peskov said that "the Russian Armed Forces do not target residential buildings or social infrastructure facilities. The attacks are only aimed at military targets."
Moscow ramped up strikes against Kiev's infrastructure in early October, citing repeated Ukrainian sabotage on Russian soil, including the deadly bombing of the strategic Crimean Bridge.
You can share this story on social media: