German intelligence 'alarmed' over Ukrainian losses – media
The battle over the strategic city of Artyomovsk has inflicted heavy losses on Ukraine, Der Spiegel has said, citing German intelligence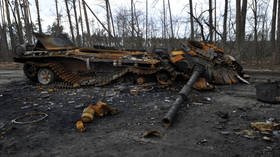 Germany's Federal Intelligence Agency (BND) is "alarmed" over heavy losses suffered by Ukrainian troops in the conflict between Kiev and Moscow, the Der Spiegel weekly reported on Friday.
Russian and Ukrainian troops are currently vying for control of the strategic Donbass city of Artyomovsk (called Bakhmut by Ukraine), but the situation there does not look particularly bright for Kiev, the outlet reported, citing a "secret" meeting between BND officials and the German MPs responsible for security decisions.

"The Ukrainian army is currently losing a three-digit number of soldiers every day" in the fight with Russian forces, Der Spiegel said, citing data reportedly presented by intelligence officials during the closed briefing earlier this week.
Earlier this week, The Times reported that Kiev had sent poorly equipped troops with little combat experience to defend Artyomovsk.
If Russian forces manage to seize the city, it would have "serious consequences" for Kiev, the BND warned, adding that control over Artyomovsk would potentially facilitate major Russian advances deeper into Ukrainian-held territory.
The city of Artyomovsk has become a stronghold of the Ukrainian army in the years since the 2014 coup in Kiev. It is part of a 70-kilometer-long defense line created by the Ukrainian forces during the intervening years. Russia claims sovereignty over the city along with the rest of the Donetsk People's Republic, which joined Russia in October after a referendum. Kiev rejected the vote as a "sham."
The city remains a major logistics hub for Ukrainian forces in the region and has emerged as a focal point of the conflict for both sides in recent months. Russian troops have achieved several victories in the area over the last several weeks, taking the city of Soledar and the strategic village of Klescheevka among several other settlements as they seek to encircle Artyomovsk.
You can share this story on social media: