US to label Russia's Wagner Group a 'criminal organization'
Washington's latest move against Wagner comes after the private military company inflicted several defeats on Ukrainian forces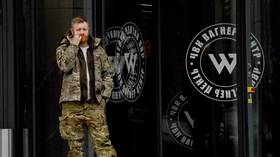 The US will label the Wagner Group a "transnational criminal organization" and apply further sanctions to the Russian private military contractor, White House National Security Council spokesman John Kirby said on Friday.
"These actions recognize the transcontinental threat that Wagner poses, including through its ongoing pattern of serious criminal activity," Kirby told reporters. A formal announcement of the designation – which places the group in the same category as Colombian drug cartels and Japanese Yakuza organizations – is expected next week.
"Our message to any company that is considering providing support to Wagner is simply this, Wagner is a criminal organization that is continuing widespread atrocities and human rights abuses," Kirby added.
The Wagner Group, which has been under US sanctions since 2017, was designated an "entity of particular concern" by the State Department in early December for allegedly threatening religious freedom in Africa, and was labeled a restricted "military end user" by the US later that month, potentially curtailing its access to technology made with American equipment.
The group's boss, Russian businessman Evgeny Prigozhin, was dismissive of Kirby's announcement. In a statement to Reuters he said that the designation would make Wagner and the US military "colleagues," and that their relationship would now be a "showdown of criminal clans."
Founded in 2014, Wagner has mainly operated as a security contractor in Africa and the Middle East. Wagner fighters are currently deployed in the Donbass, where they played a key role in liberating the strategically crucial town of Soledar from Ukrainian forces earlier this month, and seized the village of Klescheevka on Thursday.
These successes further threaten the Ukrainian garrison in the nearby city of Artyomovsk (called Bakhmut by Ukraine) with encirclement.
You can share this story on social media: