Zelensky scolds Berlin for stance on tank deliveries
The Ukrainian president has said not to make excuses if there is no political will to supply the Leopard 2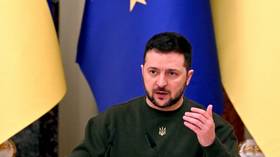 Ukrainian President Vladimir Zelensky reprimanded Germany on Thursday for its reluctance to send Leopard 2 battle tanks to Kiev, arguing that Berlin should not wait for the US to make a similar move.
Speaking to the state-backed ARD channel, Zelensky commented on media reports that German Chancellor Olaf Scholz would proceed with deliveries of heavy tanks to Ukraine only if the US did the same. Berlin has repeatedly said it would not approve such shipments without coordination with its allies.
The president insisted Germany should not be allowed to say "if America does something, I do something too." He continued, "You are grown-up people. You can talk like that for six months, but people die here every day."
Zelensky stated that "if there is no political will on an issue, then you don't have to look for excuses. Then you say: No! You don't have to say that anything or someone is not ready yet."
He also reiterated his request for the tanks, saying "it's not like we're attacking, if anyone's worried. Those Leopards aren't going through Russia. We're defending ourselves."
At the same time, he thanked Berlin for the aid packages that had already been provided: "We are grateful. I want everyone to hear that: We are grateful to Germany."
The German government has been under mounting foreign pressure for several weeks to approve deliveries of Leopard 2 tanks to Ukraine. However, Berlin is reportedly unwilling to do so unless the US also agrees to supply its M1 Abrams tanks. The Pentagon has signaled it is not ready for such a move, stating that its armor is too complex to operate and train on.
The UK earlier this week confirmed it would send fourteen Challenger 2 tanks to Ukraine, with Poland also committing to provide a company of Leopard 2s. This transfer, however, has yet to be approved by Berlin.
Russia has repeatedly warned Western countries against sending arms to Ukraine, arguing that it would only prolong the conflict. On Monday, Kremlin Press Secretary Dmitry Peskov warned that Western-made tanks provided to Ukraine "will burn" and would not be able to change the outcome of hostilities.
You can share this story on social media: