Russian customs seize golden Kalashnikov rifle
Officers confiscated the customized weapon from a passenger flying to Uzbekistan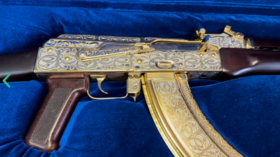 A gold-plated Kalashnikov rifle has been found in the luggage of a man traveling from the Russian city of Yekaterinburg, the Ural Customs Administration reported on Thursday.
The weapon was discovered by Koltsovo airport customs officers, who say that the man was trying to smuggle it in a weapon gift case through the "green corridor" – a customs entrance intended for travelers who do not have any luggage to declare. The passenger was flying to Uzbekistan's capital, Tashkent.
The owner of the weapon reportedly told officials that the rifle was a decommissioned model. He claimed the gun, which he says was decorated by Zlatoust craftsmen, was intended as a gift for a friend in Uzbekistan.
According to the customs service, the 7,62mm caliber Kalashnikov rifle in question was built in 1974 – the same year the model, more commonly known as the AK-74, was adopted for service in the USSR. The gun's barrel, receiver, sights and magazine were plated in gold and featured an intricate weave. The butt and handguard of the rifle were made from precious woods. The authorities added that the price for such a weapon is estimated to reach as much as half a million rubles or some $7,265.
Customs officials say they have now confiscated the rifle and have handed it over to experts to establish the possibility of restoring it back to combat-ready condition.
You can share this story on social media: