Ukrainian tried to enter EU carrying weapons – media
Romanian border police reportedly found a number of contraband items such as ammunition and military gear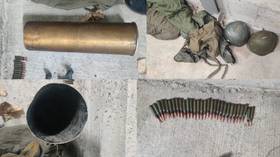 A Ukrainian national was apprehended by Romanian border police on Sunday after he tried to enter the country carrying military contraband, news outlets in the country have reported. Border security officials told the media that the 32-year-old man was heading to the UK and claimed he did not know what he was transporting.
The driver, who was accompanied by a woman – also a Ukrainian citizen – reportedly tried to pass the Vikovu de Sus Border point while traveling in a Ukrainian-registered Mercedes Benz minibus. When checking the vehicle and its contents, customs workers reportedly discovered a number of illegal items stashed in a box hidden under the luggage.
The box was said to contain an empty 122 mm caliber casing, 30 rounds of 5.45 mm caliber ammunition, a partially destroyed drone, as well as parts of Ukrainian military uniforms and two combat helmets.
The driver apparently told border officials that he was not aware of the contents of the package which he was asked to deliver to the UK. It is unclear who gave him the box or who the final recipient was supposed to be.
Border police told reporters that they have seized all the illegal items and plan to hand them over to the Suceava County Police Inspectorate. Meanwhile, the driver and his companion have reportedly been detained and are facing smuggling charges.
Last month, two Ukrainian women were also charged with illegally transporting nearly 12 kilograms of gold, worth €544,600 ($589,259) when they were apprehended at the Bulgarian-Turkish border en route to Ukraine. The women had reportedly told border police they had nothing to declare before a total of 30 packages were discovered taped to their bodies.
You can share this story on social media: