Russia indicates when Ukraine conflict may end
No military infrastructure that poses a direct threat to Moscow should remain in the country, Foreign Minister Sergey Lavrov says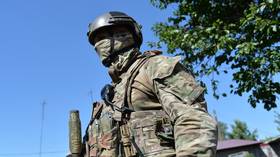 The Ukraine conflict can only end when Kiev stops posing a threat to Moscow and discriminating against Russian speakers, Foreign Minister Sergey Lavrov said on Wednesday. He added that the current standoff is based on Russia's security concerns.
Speaking at an annual press conference, Lavrov was asked whether the current phase of hostilities in the neighboring state could end this year. He responded by noting that "the goals of the special military operation are not fictional, not plucked out of thin air," but are rather "defined by fundamental, legitimate security interests of the Russian Federation."
He said this was especially true when it comes to the situation in neighboring countries. "Ukraine, like any other territory bordering Russia, of course, should not host military infrastructure that poses a direct threat to our country."
Lavrov also said Ukraine should not "discriminate against and harass" its citizens who want to continue to speak Russian and maintain Russian culture and traditions. He stated that "this is totally in line with the constitution of Ukraine," which guarantees the free use of Russian and other national minorities' languages.
Despite this document still being valid, Lavrov said, Ukraine had adopted a number of documents violating this principle.
Russian officials have repeatedly stated that the goals of the military operation would be completed no matter how long it takes. Apart from eliminating threats to Russia's security, the goals include the "demilitarization and denazification" of Ukraine, as well as the protection of the population in the Donbass.
On Sunday, Russian President Vladimir Putin provided an upbeat assessment of battlefield progress in Ukraine, noting that "everything is developing within the framework of the Defense Ministry's and the Joint Chiefs of Staff's plan."
His remarks came after the Russian Defense Ministry said on January 14 that it had conducted a missile strike on "the military command and control system of Ukraine and associated energy facilities," successfully hitting "all assigned targets."
Last week, the ministry also confirmed that Moscow's forces had captured the strategic Donbass town of Soledar. It is part of Russia's Donetsk People's Republic (DPR), but had been held by Ukrainian troops since 2014, when the republic seceded from the country following the Maidan coup. The DPR became part of Russia after holding a referendum in September 2022.
You can share this story on social media: