Ukrainian interior minister killed in helicopter crash
He was among at least 18 people who died as an aircraft crashed in a residential area outside Kiev, according to police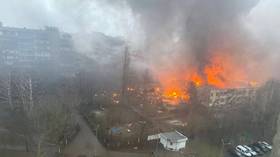 Ukrainian Interior Minister Denis Monastyrsky has been killed, police confirmed on Wednesday, after a helicopter he was traveling in crashed in a residential area in the town of Brovary near Kiev.
At least 18 others, including three children, also lost their lives in the incident, the head of Kiev Region's Military Administration, Aleksey Kuleba, wrote on Telegram.
Another 22 persons, including ten children, were injured and rushed to hospital, according to Kuleba.
Nine of those killed were aboard the helicopter, which was transporting Monastyrsky, his deputy Evgeny Yenin and other high-ranking Interior Ministry officials, according to the head of Ukraine's National Police Igor Klimenko. The ill-fated aircraft belonged to the Ukrainian Emergencies Ministry, he added.
The helicopter crashed near a kindergarten and an apartment block in Brovary, a town of around 110,000 people, located about eight kilometers northeast of Kiev.
Firefighters were deployed on site as a major blaze broke out after the crash, ravaging the preschool complex.
The Interior Ministry said it's looking into several possible reasons for the crash, including malfunction of equipment, violation of security rules and sabotage.
A spokesperson for Ukraine's Air Force pointed out that investigation of the incident is going to take at least few weeks and that it was too early to speak about what caused it. He also said that the crashed helicopter was French-made.
Monastyrsky, 42, has been Ukraine's Interior Minister since August 2019. During the presidential election campaign earlier that year, the former lawyer had been presented as an expert on law enforcement reform in Vladimir Zelensky's team.
You can share this story on social media: