Kremlin explains boost in army strength
Russia's Armed Forces need 1.5 million troops because the West is waging a proxy war against the country, a spokesman said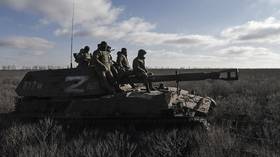 Russian plans to boost its standing army to some 1.5 million troops are necessary for its safety, Kremlin spokesman Dmitry Peskov has said, accusing the US and its allies of waging a proxy war against Moscow. The target strength was proposed by the Defense Ministry in December.
"The proxy war includes elements of indirect participation in military action, elements of economic war, financial war, lawfare," Peskov explained to journalists on Tuesday. He added that it was the Defense Ministry's duty to ensure the safety of Russia. The particular tools for achieving the proposed goal are still being worked on, Peskov stated.
Defense Minister Sergey Shoigu suggested increasing the number of Russian troops in active military service to 1.5 million during a ministerial meeting on December 21, which was attended by President Vladimir Putin. He said career soldiers and officers serving under a contract should comprise roughly 695,000 of the number, with the rest enrolled through conscription.
During a Defense Ministry meeting on Tuesday, Shoigu said the increase and certain other military changes are planned to take place between 2023 and 2026. The measures are needed "to ensure the military security of the nation, defend the [formerly Ukrainian] new [federal] subjects and critical objects of the Russian Federation," the minister said.
The Moscow and Leningrad military districts, which existed in the structure of the armed forces until 2010, are set to return as part of the move. At the moment, there are five military districts in the country, Western, Southern, Central, Eastern and the Northern Fleet.
Meanwhile, at a separate event, Putin welcomed the increase in military production that Russia managed to achieve last year. Defense contractors "have switched into high gear and continue to increase production capacity," the president noted, adding that some manufacturers are working "virtually all day long."
You can share this story on social media: