NATO waging 'proxy war' against Russia – Croatian president
Speaking about the Ukraine conflict, Zoran Milanovic said he doesn't want to be an "American slave"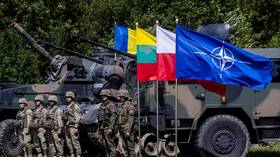 Croatian President Zoran Milanovic has claimed NATO, a military bloc of which Zagreb is a member, is waging a "proxy war" against Moscow in Ukraine. He also dismissed sanctions against Moscow as "nonsense," adding that he does not want to be an "American slave."
Speaking to Croatian reporters in the city of Vukovar on Sunday, Milanovic said, among other things: "Washington and NATO are waging a proxy war against Russia through Ukraine," as quoted by media outlet Istra24.
He went on to argue that "The plan cannot be to remove Putin. The plan cannot be sanctions," adding that such punitive measures are "nonsense and we will not achieve anything with them."
"They go from war to war. And what should I be? An American slave?" Croatia's president asked rhetorically.
Milanovic voiced his frustration with the US-led military bloc's policies in the same interview in which he tore into Croatia's prime minister, Andrej Plenkovic, over his latest Ukraine-related remark.
Speaking to news channel France 24 on Saturday, Plenkovic said the Balkan nation's lawmakers, who in mid-December didn't support the EU's program to train Ukrainian military personnel in member states, have "failed to be on the right side of history."
Commenting on the remark, Milanovic, in turn, slammed the premier for bringing "disgrace" to his country "and to its democratic representatives in front of others." The Croatian president argued that this kind of behavior reaches a low that is "the bottom of the bottom."
As for the EU's mission, the Croatian president warned that it effectively means that "for the first time in its history, the EU is participating in a war." This, according to Milanovic, is "against the Treaty on the Functioning of the EU."
In December 2022, Milanovic argued that having Ukrainian service members train on Croatian soil would "bring war" to the Balkan nation.
He also insisted at the time that "Ukraine is not an ally," criticizing Brussels' decision last June to grant Kiev candidate status as "cynical."
You can share this story on social media: