Russian defense minister visits frontline headquarters
Sergey Shoigu spoke with commanders and awarded medals to troops, according to the ministry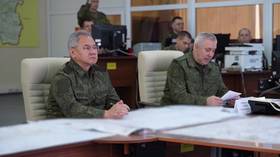 Russian Defense Minister Sergey Shoigu has inspected the headquarters of the 'East' grouping of forces taking part in the country's military operation in Ukraine, the Defense Ministry said on Tuesday.
During his visit Shoigu heard reports from commanders on the current military situation on the ground and the maneuvers performed by Russian units, the ministry said in a statement.
The minister paid special attention to the organization of comprehensive supplies for frontline troops, the construction of fortifications, and the creation of conditions for the safe deployment of servicemen in the field, as well as the work of medical and rear units, it added.
Shoigu thanked the troops for their service and personally awarded medals to a number of soldiers, including military medics, who had distinguished themselves in combat.
"You're serving with dignity, protecting our Motherland, helping those who need help, doing everything to bring closer the day called the Victory Day. I'm sure we'll do everything for this day to come," he told the servicemen, as quoted by the ministry.
Shoigu has visited the frontline on several occasions since the start of Russia's military operation in Ukraine last February. His last took place in December and saw the minister reviewing the accommodations of the personnel and talking with soldiers.
The most recent visit follows last week's announcement of major changes in the command of the Russian military operation in Ukraine. The head of the Russian General Staff, General Valery Gerasimov, has been appointed to lead the joint forces group, while the former commander of the operation, General Sergey Surovikin, has become his deputy.
The Defense Ministry said the reshuffle was required to "raise the operation command level" due to the "increased scale of the combat missions" carried out by the Russian military in Ukraine, and achieve closer coordination between various services and branches of the armed forces.
Last week, Moscow also officially confirmed the capture by its forces of the key town of Soledar in the Donetsk People's Republic. The success is considered crucial for the Russian operation to encircle the major Ukrainian stronghold and logistics hub, Artyomovsk (called Bakhmut by Kiev).
You can share this story on social media: