Ukraine to blame for missile hitting Dnepr residential building – Kremlin
Russian military doesn't target civilian homes, Dmitry Peskov insists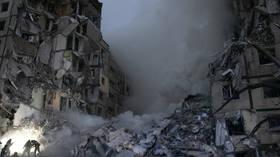 Ukraine is responsible for a deadly missile impact on a residential building in the city of Dnepr on Saturday that killed dozens of people, the Kremlin has said. Spokesman Dmitry Peskov pointed to the fact that even some Kiev officials have publicly conceded that the blast was caused by air defense shooting down a Russian missile over the city.
"The Russian Armed Forces don't target residential buildings or social infrastructure facilities. The attacks are only aimed at military targets," Peskov told journalists.
"You've seen the conclusions of the representatives of the Ukrainian side, which say that this tragedy was the result of the actions of the air defense missiles," he pointed out.
According to the latest data from the Ukrainian Emergencies Services, at least 36 people were killed and 75 others in the explosion, which delivered heavy damage to the building. The rescue operation saw almost 40 people being recovered from the rubble. However, the fate of 34 residents remains unknown, the agency said.
In the wake of the incident in Dnepr, Aleksey Arestovich, a senior adviser to Ukrainian President Vladimir Zelensky, said the explosion at a residential building had happened after Ukrainian air defenses intercepted a Russian missile, which ended up hitting the site. "[The missile] was shot down. It apparently fell on the [apartment] block. But it exploded when falling," he said.
His words caused an angry reaction from some Ukrainian officials, who blamed Arestovich for discrediting Ukraine's military and identifying it as the guilty party. The mayor of Dnepr slammed the presidential aide as "a narcissistic animal and a foul mouth," urging the Ukrainian Security Service (SBU) to intervene.
The Ukrainian military also contradicted the presidential aide's account, explaining that it simply didn't have the means to shoot down supersonic cruise missiles such as Russian Kh-22, which it claimed was involved in the incident.
Arestovich soon apologized and suggested that he should have stated more explicitly that his words were merely a "version" of events rather than the ultimate truth. However, on Sunday, he retracted that apology, insisting that his remark was carefully worded and didn't exonerate Russia from being the actual culprit.
The Russian Defense Ministry said its missile strikes on Saturday were aimed against the Ukrainian military's command and control system, as well as targeting related energy infrastructure. "All assigned targets were hit," it stated.
You can share this story on social media: