First nuclear-propelled torpedoes for Russian mega-submarine are ready – media
The Poseidon weapons are among the latest additions to the country's nuclear deterrence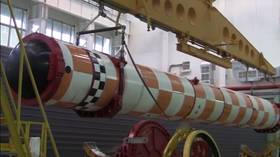 Russian shipbuilders have produced a full set of atomic Poseidon torpedoes, which will be carried by the nuclear mega-submarine Belgorod, a source close to the Defense Ministry has told TASS.
The new boat will be armed with the weapons "in the nearest future," the source stated, adding that the weapon system has completed tests on its various elements, including the propulsion system.
Poseidon has an onboard nuclear reactor to generate propulsion and carries a powerful nuclear warhead as a payload. The first hints about its development were released by Russia in 2015. The weapon is yet to formally enter military service.
The system is designed as a hard-to-intercept weapon of mass destruction that can obliterate strategic naval assets, such as military bases, shipyards and aircraft carrier strike groups. It can also inflict massive damage on coastal cities in the event of a full-blown nuclear war.
While few details have been published about the torpedo, it's known to require a specialized platform for deployment. The Russian military reported plans to build up to four nuclear submarines configured for this mission.
The first of them, the Belgorod, was completed in 2019 and commissioned in July last year. It's not clear how many Poseidon torpedoes constitute a "set" for a vessel. Most assessments said the submarines can carry as many as six, but some suggested that up to eight can be deployed by a single boat.
The Belgorod has a reported displacement of 30,000 tons submerged and a record length of 184 meters. Poseidon torpedoes are believed to be 16 to 24 meters long and are expected to be carried in transport containers attached to the hull of the submarine rather than in internal tubes.
You can share this story on social media: