Zelensky aide explains how missile fell on apartment block in Dnepr
The Russian projectile crashed into the building after being intercepted by Ukrainian air defenses, Aleksey Arestovich has said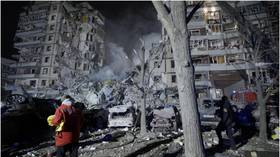 A Russian missile that fell on an apartment block in the eastern Ukrainian city of Dnepr on Saturday had been shot down by Kiev's forces, Aleksey Arestovich, a senior adviser to President Vladimir Zelensky, has said.
Zelensky and Ukrainian officials initially reported that the nine-story building was hit by a Russian missile. According to senior regional official Nikolay Lukashchuk, the number of victims rose to 21 dead and 73 wounded on Sunday.
Arestovich, however, said in a YouTube interview with Russian activist Mark Feygin that the missile was brought down by Ukrainian troops.
Asked if the air defense forces in Dnepr had the opportunity to intercept the incoming missile, Arestovich stated: "It was shot down. It apparently fell on the [apartment] block. But it exploded when falling."
Arestovich later wrote on Facebook that Russia was ultimately responsible for the deaths. "Everybody understands perfectly that the tragedy would not have happened if it was not for the Russian strike."
"Nobody will blame Ukraine. Just like it was not blamed when our air defense missile fell in Poland, killing two Polish citizens," Arestovich added, referring to an incident that occurred last fall.
On November 15, a missile killed two people in the Polish village of Przewodow near the Ukrainian border. Polish officials said at the time that the projectile was most likely fired by Ukrainian forces that were trying to fend off a Russian attack. President Zelensky initially claimed that Poland was "struck by Russian missiles," but later stated that further investigation was needed to determine what happened.
Russia has so far not commented on the reported strikes on Saturday, but has denied targeting civilians in past statements.
Moscow drastically ramped up its strikes on Ukrainian infrastructure in early October of last year, blaming Kiev for repeated acts of sabotage on Russian soil, including the bombing of the strategic Crimean Bridge.
You can share this story on social media: