Iconic Russian arms maker reveals bumper year
The Kalashnikov Group says production set records in 2022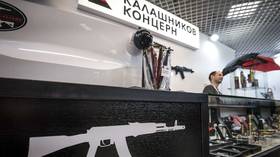 The Kalashnikov Group has had the biggest year in its history, massively increasing both production and the scope of contracts, the company announced on Thursday.
The Izhevsk-based group is Russia's biggest manufacturer of small arms and which also makes machine tools and motorcycles. In the past year, the firearms production division achieved a 20-year record, producing 40% more military and civilian small arms than in 2021, Kalashnikov said. The tool-making division's output also rose by 8% over the previous year.
In what they described as "the biggest deals in the history" of the company, Kalashnikov fulfilled 45 state military contracts, 24 military-technical cooperation agreements, and one deal to license production elsewhere.
According to the annual report, in 2022, Kalashnikov produced the first batch of the new 7.62x54-mm Chukavin sniper rifles, and "mastered" the serial production of four recently developed models.
These include the 5.56x45 mm AK-19 assault rifle, the 9mm PPK-20 submachine gun, as well as the Saiga-9 and TR3 semi-automatic hunting carbines, for the civilian market. The TR3 is a civilian model based on the AK-12 and AK-15 military rifles.
The NATO-caliber AK-19 was developed at the request of international clients. The AK-12 uses 5.35x39mm ammunition, while the AK-15 is chambered in 7.62x39mm, both following Russian military specifications.
Russian officials have previously said the country's defense industry had kicked into high gear in response to Western efforts to "pump" Ukraine with weapons and supplies. Last month, Russian President Vladimir Putin held a meeting with defense industry executives in Tula and spoke of the need to fully supply "every platoon" on the frontline with everything they need.
The Kalashnikov Group is part of the Rostec defense consortium. It was incorporated in 2013, by merging the Izhevsk-based machining facilities with the armory, previously known as Izhmash and going back to 1807. The new name paid homage to Izhmash's most famous employee, tank driver and mechanic Mikhail Kalashnikov, who was responsible for designing the AK-47 rifle in 1947.
You can share this story on social media: