Russia blasts France for arming Ukraine
Paris should take responsibility for prolonging the conflict, Moscow has said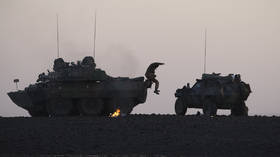 Paris should not talk about the need for dialog on the Ukraine conflict while at the same time providing increasingly heavier weapons to Kiev, spokeswoman for the Russian Foreign Ministry, Maria Zakharova, has suggested. She was commenting on the French decision to supply light tanks to Ukraine.
The move was not particularly surprising, but it was "reckless and irresponsible" and risks a further escalation of the crisis, the official told journalists during a briefing on Thursday.
Moscow has provided evidence to Paris confirming that French weapons previously sent to Kiev were used to attack civilian targets, Zakharova stated.
She also blasted Catherine Colonna, the French minister for European and foreign affairs, who had previously argued that since the Ukrainian conflict threatens "the stability of Europe," sending weapons to Kiev was a "duty." Colonna recently suggested that sending AMX-10 RC armored vehicles and other weapons to Ukraine didn't make France a party to the conflict.
"Don't be coy. It does, very much so," the Russian diplomat said, addressing the French government. "Don't take your own population into a disinformation wilderness."
The French government said the shipment would be "the first time that tanks designed in the West are being delivered in support of the Ukrainian army." The vehicles are manufactured by Nexter Systems, and are wheeled and designed for reconnaissance, but are sometimes described as "light tanks."
According to Zakharova, the arming of Ukraine "lays naked the cynicism and deception" of Paris' claims that it wants to prevent an escalation of the conflict and to address Russian security concerns. In practice, France "pushes the confrontation towards spiraling out of control."
"It's high time for Paris to acknowledge its responsibility for the failure of the Minsk agreements," the spokeswoman suggested.
She was referring to a proposed peace roadmap, which France helped mediate in 2014 and 2015. It was aimed at reconciling Kiev with its breakaway regions in the east, but never implemented. Top Ukrainian and European officials have since admitted that the agreements were meant to help Kiev build up its armed forces.
You can share this story on social media: