First case of 'Kraken' Covid variant detected in Russia
The discovery will not lead to the introduction of restrictions, the country's consumer watchdog has said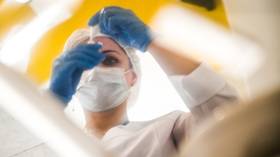 The first case of a new, more contagious Covid-19 sub-variant known as the 'Kraken' has been recorded in Russia, the country's consumer watchdog, Rospotrebnadzor, announced on Thursday.
An infection with the Omicron subvariant officially known as XBB.1.5 was found in Penza Region in central Russia, 600km southeast of Moscow, as part of the monitoring of information uploaded daily to the Virus Genome Aggregator of Russia.
The woman who contracted the disease has not left Russia within the past two months, the agency said. She had the disease in a mild form and recovered in the space of a week, it added.
"Currently, a wide range of varieties of the Omicron strain has been detected in Russia, but the dominant strain is still Omicron BA.5," which has been around since early 2022, the agency said.
Rospotrebnadzor added that there are no plans to introduce any new restrictions in the country due to the discovery of the variant. It was nicknamed 'Kraken' by scientists due to the shape of the virus, which resembles the mythical sea monster.
What the World Health Organization (WHO) earlier described as "the most transmissible subvariant that has been detected yet" was first tracked down in the US in October. XBB 1.5 has become the dominant coronavirus strain in America.
On Thursday, the WHO said that Kraken infections have already been reported by 38 nations. "Based on its genetic characteristics and early growth rate estimates, XBB.1.5 may contribute to increases in case incidence globally," the UN health body warned.
Assessment of the severity of the new strain is ongoing, the WHO said, adding that the Kraken is not known to carry mutations that could make it more or less harsh.
Last week, Russian infectious disease specialist Sergey Voznesensky said the rapid spread of the new variant around the world is no reason for panic. It is a subvariant of Omicron and all of them are "more transmissible than all previous variants… and they cause a milder form of the disease," he explained.
You can share this story on social media: