Medic comments on 'Kraken' Covid strain
The new Omicron subvariant is more contagious but causes only mild illness, a Russian infectiologist has said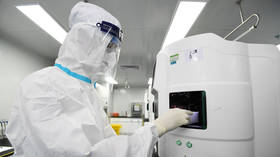 There is no reason to panic over a new Covid-19 variant spreading across the world, Russian infectious disease specialist Sergey Voznesensky has said. Earlier, the World Health Organization declared the Omicron subvariant XBB 1.5, dubbed 'Kraken,' the "most transmissible subvariant that has been detected yet."
While 'Kraken' is more contagious, it only causes a mild disease, Voznesensky told the Moskva City News Agency, adding that there is "no reason" to expect any abrupt, adverse changes in the epidemiological situation in Russia.
All Omicron subvariants have two things in common, Voznesensky, who is associate professor at the Department of Infectious Diseases of the Peoples' Friendship University of Russia, explained.
"They are more transmissible than all previous variants… and they cause a milder form of the disease," he said, adding that "we have absolutely nothing to fear."
The medical specialist still maintained that timely vaccination and re-vaccination is the best way to avoid even a mild disease caused by the virus, adding that people should be getting a shot roughly every six months.
Last week, the WHO reported that the XBB 1.5 variant was already dominating the US. It was also detected in a total of 29 countries at that time, the UN health watchdog said, adding that the real number might be even higher.
"It is the most transmissible subvariant that has been detected yet," Maria Van Kerkhove, the WHO's Covid-19 technical lead, told journalists at that time. The WHO also said that it did not have any exact data on the severity of the new variant, adding, however, that it does not appear to be any more severe than the previous Omicron subvariants.
On Monday, 'Kraken' was detected in New Zealand. Russia's consumer rights watchdog, Rospotrebnadzor, reported on January 7 that no 'Kraken' cases had been detected in Russia at that time.
You can share this story on social media: