Christmas truce ordered by Putin comes into force
Kiev rejected the ceasefire initiative, calling it a military ruse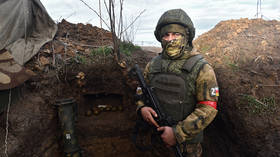 A cessation of hostilities in Ukraine ordered by President Vladimir Putin on the eve of Orthodox Christmas took effect on Friday morning. Russia intends to observe the truce for 36 hours, from 12:00 local time on January 6 until midnight on January 7.
The president's ceasefire order was issued on Thursday after an appeal by Patriarch Kirill, the leader of the Russian Orthodox Church. "We call upon the Ukrainian side to proclaim a cessation of hostilities and give them [Orthodox Christians] the opportunity to attend services on Christmas Eve and on Christmas Day," a Kremlin statement read.
The Russian truce has been rejected by Kiev, with officials calling it "hypocritical," and Ukrainian President Vladimir Zelensky describing the offer as a military ruse while US President Joe Biden suggested that by seeking a pause, Putin "is trying to find some oxygen."
In a statement on Thursday, Russia's ambassador to Washington, Anatoly Antonov, claimed the Biden administration's reaction shows the US "is committed to fighting with Moscow 'to the last Ukrainian,'" while not caring about the eventual fate of the Ukrainian people.
Meanwhile, Denis Pushilin, the acting leader of Russia's Donetsk People's Republic (DPR), stated that his troops would not conduct any offensive actions during the truce, while not letting any Ukrainian provocations go unanswered. Russian forces will not allow "the enemy any chance to use the holiday hours to improve its positions along the line of contact," he added.
You can share this story on social media: