US set to fight Russia 'to the last Ukrainian' – Moscow
Earlier, President Joe Biden voiced skepticism about the Christmas truce offered by Russia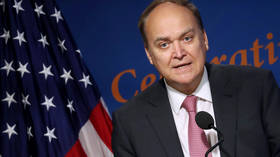 The US government's policies on Ukraine show it is not interested in a peaceful resolution of the conflict, the Russian ambassador to Washington said on Thursday.
In a statement, Anatoly Antonov argued that Washington's decision to supply Kiev with Bradley Fighting Vehicles only confirms the US has not "even tried to listen" to Russia's warnings against such "a dangerous course."
"The US unleashed a real proxy-war against Russia by supporting Nazi criminals in Kiev" as early as 2014, the ambassador said, referring to the coup that ousted the democratically elected president, Viktor Yanukovich. "Any talk about a 'defensive nature' of weapons supplied to Ukraine has long become absurd," he added.
The envoy claimed Western arms shipments only encourage Ukrainian radicals to commit "terrible deeds," adding to "their feeling of impunity… They continue to kill civilians in Donbass, Zaporozhye and Kherson Regions of the Russian Federation in an extremely cynical way."
"Nobody should still have doubts who bears responsibility for prolonging this conflict," as all actions by the US administration "indicate a lack of any desire for a political settlement," Antonov said.

The Russian ambassador highlighted US President Joe Biden's reaction to the 36-hour truce on Orthodox Christmas announced by Russian President Vladimir Putin on Thursday. Earlier, the US president dismissed Moscow's offer, saying: "I'm reluctant to respond to anything that Putin says… I think he's trying to find some oxygen."
"All this means that Washington is committed to fighting with us 'to the last Ukrainian', while the destiny of people of Ukraine means nothing to the US," the diplomat argued.
The proposed ceasefire was branded "hypocritical" by Ukrainian officials, with President Vladimir Zelensky calling it a ruse, saying: "Everyone in the world knows how the Kremlin uses ceasefires to continue the war with renewed vigor."
You can share this story on social media: