EU state breaks ranks on Russian assets
Estonia will create its own laws to use seized funds for Ukraine's recovery, Foreign Minister Urmas Reinsalu has said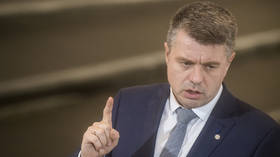 Estonia will not wait for an all-EU decision but will devise its own framework for confiscating Russian assets blocked by Brussels in response to Moscow's military intervention in Ukraine, the country's foreign minister, Urmas Reinsalu, has announced.
"European countries have instructed the European Commission to create a legal scheme that would allow the use of frozen assets for the aid and recovery of Ukraine. But there is no consensus on this issue yet," Reinsalu told the newspaper Postimees on Wednesday.
"We have discussed this in the government and decided that, in parallel with [the EU], we will start devising a legal framework that would allow us to use these funds," the minister said, adding that the move could create a precedent for international law.
The EU froze around €17 billion ($18 billion) as part of sanctions imposed on Moscow after it launched a military operation in Ukraine in late February, according to the bloc's justice commissioner, Didier Reynders. He said in October that the West had also blocked the reserves of Russia's Central Bank, worth €300 million.
European Commission President Ursula von der Leyen warned in late November that "Russia and its oligarchs have to compensate Ukraine for the damage and cover the costs for rebuilding the country." Bloomberg reported on Tuesday that the German government supported Kiev's call to confiscate Russian assets, but has not yet made a decision on the matter.
Moscow, meanwhile, maintains that the seizure of Russian funds is "theft." Foreign Ministry spokeswoman Maria Zakharova accused Brussels in October of "refusing to protect the property of Russians, while openly declaring the primacy of political reasoning over the law."
You can share this story on social media: