Goals outlined for Russia's long-range air force in 2023
Aircraft will continue to carry out combat missions in Ukraine, the force's commander Sergey Kobylash says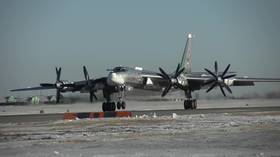 Russian long-range aviation will continue to have a role in Moscow's military operation in Ukraine in 2023 and will have to master new upgrades to the fleet, Lieutenant General Sergey Kobylash, head of the long-range air command, has said.
The planned operational and combat training program for this year includes "the use of airborne means of destruction," Kobylash added on Monday, as cited by the Defense Ministry.
Pilots will also continue to train and improve their skills in working with automated control systems and information support for high-precision weapons, he added.
"Those tasks will be performed in 2023 as part of the participation of the long-range aviation in the special military operation," the commander said, expressing confidence that all of the force's goals will be achieved through the hard work of all its personnel.
Last month, Kobylash told the Russian military's paper Krasnaya Zvezda that most of the crews of the force have already received combat experience in the course of the conflict in Ukraine.
Russia's long range aviation – which is part of the country's nuclear triad but can also carry conventional arms – currently relies on three types of aircraft, including the Tu-95MS and Tu-160 strategic missile carrier, and the Tu-22M3 long-range bomber.
Shortly before the New Year, the force was boosted by another modernized Tu-22M3 bomber. Two Tu-160M aircraft have also been submitted for flight tests. One of them is an upgraded version of an existing plane, while the other had been built from scratch, as part of Russia's recent efforts to restart its strategic plane-manufacturing program.
Last month, Ukraine made at least two attempts to strike airfields that host long-range aviation crews, deep inside Russian territory, in Saratov and Ryazan regions. According to the Defense Ministry, the modified "Soviet-made" jet drones, which targeted the Engels and Dyagilevo bases, were shot down by air defenses. However, debris from the destroyed UAVs ended up killing six servicemen on the ground and on one occasion inflicted minor damage to two aircraft.
You can share this story on social media: