Russia announces arms-spending hike
Defense Minister Sergey Shoigu said that increasing expenditure in 2023 will ensure the military is combat ready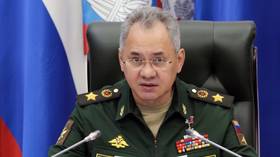 Russia is on track to spend nearly 50% more on defense next year than in 2022, Defense Minister Sergey Shoigu has revealed. He explained that the hike will help ensure a 97%-combat-readiness rate for weaponry and hardware.
Meanwhile, in late September, Vedomosti media outlet, citing government documents, claimed that Moscow spent 4,679 trillion rubles ($77 billion) on defense in 2022. According to journalists' estimates at the time, the figure was expected to further rise next year and reach some five trillion rubles. The article also claimed the upward trend would continue into 2024.
Speaking at the Defense Ministry's collegium on Wednesday, Shoigu called on Russian arms manufacturers to "retain the maximum production capacity" and ensure "ahead-of-time deliveries to the military."
He also stressed the need for continued modernization of weapons, so that state-of-the-art models can be sent to the battlefield in Ukraine.
According to Shoigu, special emphasis should be placed on artillery and missile systems, as well as the use of drones to enhance the weapons' effectiveness.
"As a result of the special military operation and the partial mobilization, requirements have increased with respect to the state [defense] order on all levels of control and implementation," the minister noted.
Russian President Vladimir Putin sent troops into Ukraine on February 24, citing Kiev's failure to implement the Minsk agreements, which had been brokered by Germany and France and envisaged the granting of special status within the Ukrainian state to the Donetsk and Lugansk Republics. The Kremlin also accused Ukraine of discriminating against the Russian-speaking ethnic minority.
The former Ukraine territories of Kherson and Zaporozhye, seized by Russian forces, as well as the Donetsk and Lugansk People's Republics, were incorporated into Russia in early October. This was preceded by referendums held in those territories, where, according to local authorities, most voters favored joining Russia.
In late September, nearly seven months into Moscow's 'special military operation,' Putin declared 'partial mobilization' in the country.
Commenting on its results, Shoigu said on Wednesday that more than 300,000 reservists have been trained in Russia and Belarus over the past two months with the help of 3,000 instructors.
The minister also revealed that over 8,000 crews had been prepared for tanks, infantry fighting vehicles, artillery systems, air defense as well as drone and electronic warfare units.
You can share this story on social media: