Serbian-language RT Balkans goes online
The portal plans to develop a broadcast TV channel in the near future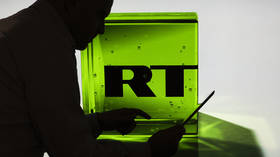 A Serbian-language channel joined the RT family of platforms on Tuesday. RT Balkan has launched as an online news portal, with plans to produce and broadcast TV content by 2024.
"We have launched RT Balkan. Because Kosovo is Serbia," RT Editor-in-Chief Margarita Simonyan said on her Telegram channel, referring to the refusal of both Belgrade and Moscow to recognize the NATO-controlled breakaway province.
"Probably nowhere else in the world have we been expected so eagerly as here," Simonyan said, announcing the channel.
Jelena Milincic, the new editor-in-chief of RT Balkan, agreed. "The reaction I heard most often when I told someone about RT Balkan was 'at long last!'" Milincic wrote in her opening editorial. She said the new outlet would offer the Russian point of view to a region already saturated by Western-controlled media, amid "a time of media hatred, when free speech is being strangled in the cradle."
"Becoming a part of the Balkans media space is a major challenge, but we are ready for it," she added.
The Serbian-language market, which covers most of former Yugoslavia, has already been staked out by a number of foreign media conglomerates, including CNN and Al Jazeera. RT Balkan is currently available on the website rt.rs, as well as on Telegram – in both Serbian and Russian – and a number of social media platforms. Milincic says the channel plans to start broadcasting by 2024.
An early endorsement of the channel came from the acclaimed Serbian film director Emir Kusturica, who called RT "the template of what TV should be – unlike BBC and CNN, which show one-sided information."
Serbian-born Milincic has worked with RT Spanish since its inception. She is best known among the home audience for the 2014 documentary 'Why?' co-authored by American journalist Anissa Nauai, which looked at the 1999 NATO bombing.
RT currently has news outlets in Arabic, English, French, German, and Russian, a documentary film production, and its sister video agency Ruptly. Many of them were blocked in the EU after Western governments accused the network of spreading "Russian propaganda." Even so, RT.com remains in the top 25 most popular English-language news websites in the world, according to a Press Gazette ranking.
You can share this story on social media: