Putin announces new security measures in Russia
The president has ordered steps related to hostilities with Kiev, including imposing martial law in some regions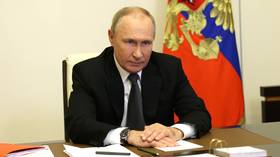 Russia has introduced emergency measures due to the continued threat posed by Ukraine and the need for a more efficient response to it, President Vladimir Putin announced on Wednesday.
Speaking at a meeting of the National Security Council, Putin said he had signed several documents detailing the policy changes. He also reiterated accusations against Kiev, stating that it uses "terrorist methods" against Russia.
Ukrainian forces "sabotage crucial infrastructure and stage assassinations of local officials. Just like their ideological forefathers – [Stepan Bandera's] Hitler collaborators – they try to create a criminal underworld, send sabotage teams on our soil," Putin explained.
He claimed that Russian law enforcement officials have prevented several planned attacks on "mass gatherings, transport and energy facilities," including a nuclear power plant.
You can share this story on social media: