Jokes and threats: How Ukrainian officials reacted to Crimean Bridge explosion 
Senior officials and state agencies responded to the attack on a key piece of Russian infrastructure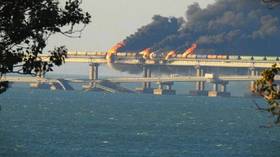 The Crimean Bridge, which connects the peninsula with mainland Russia, was damaged by a truck explosion and partially collapsed on Saturday morning, causing traffic on the bridge to be halted. The Russian Investigative Committee said that at least three people died in the blast.
The attack occurred amid Russia's ongoing military operation in Ukraine. Kiev considers Crimea illegally occupied, although in a 2014 referendum in the aftermath of the US-backed coup, the peninsula overwhelmingly voted to leave Ukraine and reunite with Russia. However, the Ukrainian leadership has repeatedly vowed to reclaim control over it and had previously floated the idea of attacking the bridge.
On Saturday, Ukrainian officials and government agencies celebrated the blast, some with memes and tongue-in-cheek references, while others made threats.
You can share this story on social media: