City under fire before visit of UN nuclear inspectors
Three people were killed in Energodar, on the same day an IAEA team is set to visit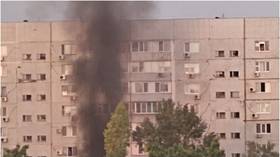 At least three civilians were killed and one injured after Kiev's troops shelled the city of Energodar in southern Ukraine, Russian news agency RIA Novosti reported on Thursday, citing local officials.
Videos and photos posted on social media show clouds of smoke rising from the buildings.
The news comes as a team from the International Atomic Energy Agency (IAEA) is due to visit the Zaporozhye Nuclear Power Plant located nearby.
Europe's biggest nuclear plant was seized by Russian forces shortly after Moscow launched its military operation in the neighboring country in late February.
The facility, which continues to operate with local staff, has repeatedly come under fire, with Moscow and Kiev blaming each other for the attacks.
Aleksandr Volga, the Russian-appointed head of Energodar, said that a Ukrainian unit has been deployed near the city and that Russian military aircraft are targeting its fighters.
The Russian Defense Ministry said that up to 60 Ukrainian commandos crossed the large Kakhovka water reservoir on boats and made an attempt to capture the plant.
Vladimir Rogov, a pro-Russian regional official, cited reports that one of the plant's power units has been shut down, and blamed Kiev for the shelling.
Dmitry Orlov, the top Ukrainian official responsible for Energodar, accused Russia of shelling the city and endangering the plant.
The IAEA team is expected to reach the plant on Thursday. "It's a mission that seeks to prevent a nuclear accident," IAEA chief Rafael Grossi told reporters on Wednesday after arriving in the city of Zaporozhye.
Grossi said the mission will continue despite the reports of the escalation on the ground. "There has been an increased military activity in the area. Having come so far, we are not stopping," Reuters quoted him as saying.
You can share this story on social media: