Ukrainian drone strikes Russian border checkpoint – governor
One person was killed and several others injured after the attack in Russia's Bryansk Region, Aleksandr Bogomaz says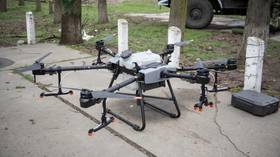 A Ukrainian drone dropped an explosive device onto a border checkpoint in Russia's Bryansk Region on Tuesday, according to the local governor.
Four people were wounded in the attack, with one of them later dying of his injuries in hospital, Aleksandr Bogomaz said.
The wounds of the other victims have been described as moderate and light.
The Troebortnoye checkpoint was hit by a quadcopter UAV, with its bomb striking a warehouse building, the governor wrote on Telegram.
The same checkpoint had already been targeted with mortar attacks by the Ukrainian forces in April and May.
In late June, two Ukrainian kamikaze drones smashed into an oil refinery in southern Russia's Rostov Region, damaging the facility and causing a large fire.
Since the start of Moscow's military offensive in Ukraine, Kiev's forces have carried out numerous strikes on settlements and border checkpoints in Russia's Bryansk and Belgorod Regions.
The attacks, which mainly involved drones and mortars, have hit both infrastructure and residential areas, resulting in destruction, injuries, and several civilian deaths.
You can share this story on social media: