National security chief fired in Ukraine
Parliament removed the top official at the SBU, while President Zelensky dismissed five of the agency's regional bosses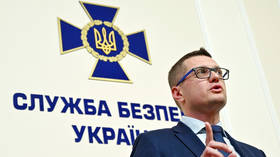 Ukraine's parliament has approved the firing of Ivan Bakanov, the top official at the state security service (the SBU), on Tuesday. Bakanov was a childhood friend of President Vladimir Zelensky and was installed in 2019.
Meanwhile, Zelensky also removed the heads of SBU departments in five of the country's regions on Tuesday.
The SBU leaders in Sumy, Dnepropetrovsk, Zhytomir, Transcarpathia and Poltava regions have all been replaced.
The agency's deputy head, Vladimir Gorbenko, has also been relieved of his duties by presidential decree.
Bakanov, who also worked with Zelensky during the latter's comedy career, had been suspended since Sunday.
After vote on his removal, lawmakers later made the same decision regarding Prosecutor General Irina Venediktova, also relieving her of her duties.
Zelensky had asked the Verkhovna Rada to fire the two top officials over a loss of trust.
The president earlier said that there was "rampant" treason in the SBU and General Prosecutor's Office relating to the conflict with Russia.
More than 650 criminal cases have been launched against the employees of the two agencies, he announced.
Such a vast "array of crimes," as well as contacts between "employees of law enforcement agencies of Ukraine and Russia," raise "serious questions" for Bakanov and Venediktova, Zelensky insisted, warning that they would not remain unanswered
You can share this story on social media: