Zelensky wants top prosecutor and spy chief sacked amid treason allegations
The two high-ranking officials were earlier suspended over claims of "rampant" treason in their agencies amid the conflict with Russia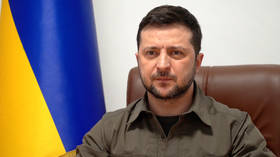 President Vladimir Zelensky has submitted proposals to the country's parliament to fire Ukraine's prosecutor general and the head of the Security Service (SBU).
A draft decree on relieving SBU chief Ivan Bakanov of his duties was published on Monday on the website of Ukraine's parliament, the Verkhovna Rada, with a similar document regarding the fate of Prosecutor General Irina Venediktova being registered on Tuesday.
According to Zelensky, Venediktova and Bakanov should be removed from their posts due to a loss of trust.
According to Ukrainian law, the country's president requires approval from lawmakers to reshuffle officials at such high positions.
The Verkhovna Rada's committee on national security, defense and intelligence has already supported Zelensky's initiative regarding Bakanov.
The MPs said that they would consider the request to sack the SBU chief at the next parliamentary session.
Venediktova and Bakanov were suspended on Sunday over what Zelensky described as "rampant" treason in their agencies, with 651 criminal cases against prosecutor general's office staff and SBU officers being launched.
Such a vast "array of crimes," as well as contacts between "employees of law enforcement agencies of Ukraine and Russia," raise "serious questions" for the two officials, the president insisted, warning that they won't remain unanswered.
On Tuesday, the deputy head of Zelensky's office, Andrey Smirnov, gave assurances that Venediktova and Bakanov could only be fired after all probes against them are concluded. He also suggested that the investigation could well end with the duo retaining their jobs.
Venediktova's deputy, Aleksey Simonenko, has been assigned as caretaker prosecutor general, while the role of the acting SBU chief went to Vasily Malyuk, who also used to be the deputy head of the agency.
You can share this story on social media: