Hungary doubles down on Zelensky remarks
Foreign Minister backs lawmaker's comment about the Ukrainian leader's mental health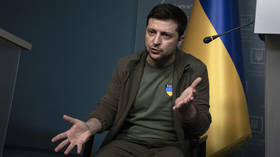 Hungarian Foreign Minister Peter Szijjarto on Monday backed the speaker of the parliament Laszlo Kover, saying he was correct to claim Ukrainian President Volodymyr Zelensky had a "mental problem" for threatening countries trying to help him. Kover's comments, voiced in a TV interview over the weekend, prompted a fury of further condemnation from Kiev.
"While tens of thousands of people have worked in Hungary in recent months to help war-torn Ukraine and the Ukrainian people, Ukrainian politicians are constantly talking about Hungary in an unacceptable tone, provoking us, telling lies and trying to blacken us," Szijjarto said in a Facebook post.
"Based on all of this, Laszlo Kover is absolutely right, even if the Ukrainians are upset," he added.
Kover presides over the Hungarian National Assembly and is a founding member of the ruling Fidesz party. In an interview with the Hungarian news channel HirTV on Saturday, he complained that Zelensky was being needlessly rude and hostile to countries he was asking for help – and not just Hungary, but Germany as well.
"I can't recall when a leader of a country in need of help would dare to speak out against anyone in a fashion like President Zelensky did," said Kover. "One should threaten enemies, not those you want to make your friends. There is some kind of personal mental problem, and I don't know what can be done about it."
Officials in Kiev took offense at his remarks. Zelensky's deputy chief of staff, Andrey Sibiga, responded on Facebook by slamming the "unacceptable, vicious remarks by 'sub-par politicians' like the non-respected head of Hungary's legislature."
Meanwhile, Ukrainian Foreign Ministry spokesman Oleg Nikolenko insinuated that Kover himself had a mental health diagnosis, and accused Hungary of being on the side of "evil" in history on more than one occasion.
Kiev has repeatedly lashed out at Berlin and Budapest since February, accusing the Germans of not sending enough weapons to Ukraine and the Hungarians of blocking certain EU economic sanctions against Russia. Hungarian Prime Minister Viktor Orban has criticized the embargo, likening it to an economic nuclear bomb, and pointing out that his country is heavily dependent on imports of Russian oil and gas.
You can share this story on social media: