Russia's space program to shift focus – Roscosmos
Dmitry Rogozin, the Russian space agency chief, has said Western sanctions have imposed constraints in some areas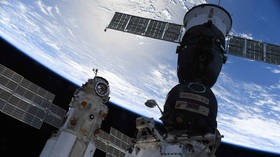 Roscosmos will prioritize the development of satellites for defense purposes in light of Western sanctions, Russia's space agency chief revealed on Thursday.
Speaking to Russia's Rossiya 24 TV channel, Dmitry Rogozin said that Roscosmos' operations would have to be adjusted in response to new challenges posed by Western sanctions. The official also stressed that all the existing plans in the short- and mid-term would be fulfilled as the necessary electronic components are produced in Russia.
Earlier on Thursday, Rogozin revealed that he had ordered his own salary to be slashed by 30%, with pay cuts affecting other top managers as well. However, despite external pressure, Russia's space agency is going to raise some of its staff's salaries.
The head of Roscosmos also announced the end of cooperation with Germany in relation to joint experiments on board the ISS.
Rogozin previously posted a string of tweets commenting on Western sanctions against Russia's space program. Among other things, the official said that Roscosmos would now be aiming for self-sufficiency.
Rogozin went on to ask the US how they were going to cope with the ISS maintenance should they sever ties with Russia in this sphere.
NASA, in turn, reiterated that it was staying in touch with Roscosmos to keep the International Space Station operational.
Among some of the other counter-measures in response to Western sanctions that the Roscosmos chief announced was the decision to no longer supply spacecraft engines to the US, which are used in Atlas-5 and Antares rockets.
Since Russia launched its military offensive against Ukraine on February 24, President Joe Biden has vowed to cut exports of high-tech equipment and components by half.
Explaining the need to take military action against Ukraine, Russian President Vladimir Putin cited the rise of neo-Nazi forces there, as well as NATO's supposed plans to allow the country to join the military alliance. Putin also claimed that the Ukrainian government had been conducting a genocide of Russian-speaking residents in the Donbass republics. Kiev and its Western allies insist that this is simply being used as a pretext for waging an "unprovoked" attack on Ukraine.
You can share this story on social media: