Kazakhstan supports neither Russia nor Ukraine
Ally of Russia in Central Asia refuses to take sides in Ukraine conflict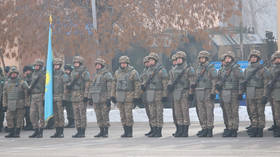 Kazakhstan is not taking sides in the armed conflict between its close ally Russia and Ukraine, a senior military official said on Thursday. "We support neither side. This is not up for discussion," Deputy Defense Minister Lt. Gen. Sultan Kamaletdinov told journalists.
Foreign Minister Shakhrat Nuryshev made remarks to the same effect earlier this week.
Kazakhstan went through a period of extreme turmoil in January, with mass street protests, triggered at first by a sharp spike in fuel prices, quickly escalating into rioting. The government struggled to preserve order and asked the CSTO, a Russia-led regional security organization, for deployment of troops. The request was granted, with Russia providing most of the soldiers sent to Kazakhstan to guard strategic locations.
President Kassym-Jomart Tokayev blamed the turmoil on malign foreign forces, claiming that most of the rioters were foreign nationals who'd infiltrated Kazakhstan to cause trouble. After order was restored, the president sacked the defense minister for a lackluster response to the crisis. The ex-minister was arrested in late February on suspicion that his failure to carry out his duty as minister amounted to a crime.
The country has distanced itself from the ongoing crisis in Ukraine, with Tokavev repeatedly calling on Russia and Kiev to resolve their differences through talks.
There were rumors circulating in Kazakhstan that it would send its troops to Ukraine to support the Russian offensive. The defense ministry denied such plans, pointing out on Thursday that any foreign troops deployment would have to be authorized by the national parliament.
Russia invaded Ukraine last week, claiming the move is aimed at curbing threats emanating from the country due to NATO's creeping expansion there. Another Russian ally, Belarus, allowed Moscow to use its territory to launch the offensive, but denied Kiev's claims that Belarusian troops were taking part in it.
You can share this story on social media: